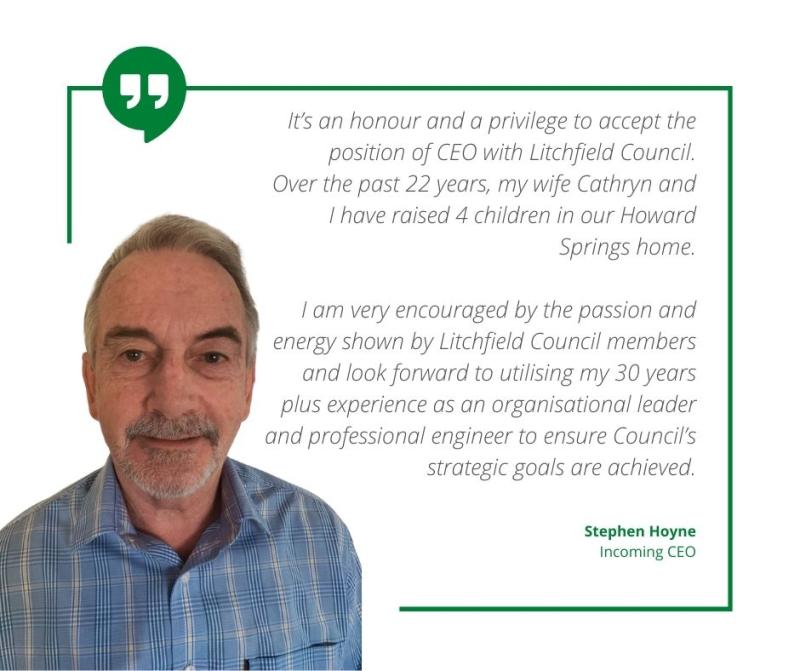 Litchfield Council is pleased to announce a new CEO will commence in the coming weeks to lead the region and the organisation into its next chapter.
Local resident and experienced leader Stephen Hoyne has been selected as the new Chief Executive Officer to lead the organisation and the elected members into tomorrow's Litchfield.
Mr. Hoyne arrives at the council with 15 years of experience at an executive level with the NT Government, most notably as Director of Major Projects for the Department of Infrastructure and as an Executive Director of Major Projects, Contracts and Procurement. More recently he has held the title of Manager of Technical and Community Services for the West Arnhem Regional Council.
Stephen brings extensive fundamental knowledge in engineering, project management, business management and finance. He hopes these areas of expertise will add value to shaping the future of Litchfield Council.
"It's an honour and a privilege to accept the position of CEO with Litchfield Council," he said.
"Over the past 22 years, my wife Cathryn and I have raised 4 children in our Howard Springs home. This experience has also given me enormous insight into rural residents' values and expectations.
Additionally, I am very encouraged by the passion and energy shown by all the Litchfield Council members and look forward to utilising my 30-plus years of experience as an organisational leader and professional engineer to work with Council and staff to ensure the Council's strategic goals are achieved."
Mayor Doug Barden agrees, stating "Stephen's experience and proven success across different levels of government, along with his local knowledge of Litchfield Council makes him a fantastic candidate for the Chief Executive Officer role at Litchfield Council".
For any media enquiries contact the Manager, Communications and Engagement Kym Lenoble on 08 8983 0647 or email kym.lenoble@litchfield.nt.gov.au